Welcome to the Binckley - Binkley Family Mail List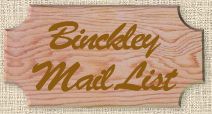 The Binckley - Binkley mail list has several purposes.
To aid in keeping the family connected - to share family news and family events
To keep researchers of the Binckley - Binkley surname connected
As a way for people to ask questions about the family genealogy and getting a rapid response
The Binckley family mail list is free, and simple to join, and completely automated. Just send an e-mail to:

majordomo@zionweb.org The subject of the message may be left blank. In the text of the message, place the following on a single line with no extra spaces and all in lower case:

subscribe binckleyfamily youre-mail

Of course, you'll want to replace "youre-mail" with your own e-mail address.

If you have questions, suggestions, information and would like to contact me, you may e-mail me, Rev. John D. Ashbaugh, PA-C, sixth great-grandson of Johannes "Hance" Binckley at

webmaster@zionweb.org, or you may wish to contact all family researchers or share information with the researchers of the Binckley family by e-mailing binckleyfamily@zionweb.org, or you may wish to visit the Ashbaugh branch of my family at http://ashbaugh.zionweb.org

Please take time to visit or sign our guest book sometime during your visit with us!